Nigeria needs more help to fight Boko Haram - security summit
Comments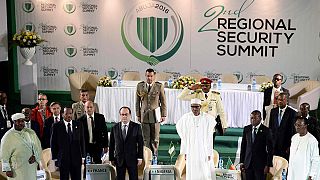 The fight against Boko Haram is bearing fruit but the militant group remains extremely dangerous, and Nigeria needs more help to crush it and cope with the humanitarian crisis it's causing.
That was the conclusion of an international security summit in the Nigerian capital Abuja on Saturday (May 14).
The final communique said a "global approach" was required, comprising hard and soft power, to end the threat.
Boko Haram's seven-year insurgency has killed at least 20,000 people and displaced more than 2.5 million.
"Boko Haram is the most barbaric and deadliest terrorist group in the world, even if it's difficult to draw rankings in horror," said French President Francois Hollande.
"We must therefore support the Nigerian army and neighbouring countries, we need to help them be more efficient, to train personnel and share information."
Among the topics discussed was the effective deployment of a long-awaited regional African force of some eight thousand soldiers to fight Boko Haram. It was due to be on the ground in July of last year.
Boko Haram may be sending fighters to Isis in Libya – US officials https://t.co/qF9mKJhrh9

— The Guardian (@guardian) May 14, 2016