Canada PM Justin Trudeau tours wildfire-ravaged Alberta
Comments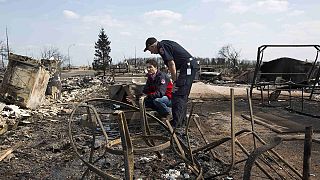 Canada's Prime Minister Justin Trudeau has said the scale of the wildfire in Alberta did not hit him until he visited the area on Friday.
Two weeks after it ignited, he toured the Fort McMurray area by military helicopter to assess the damage.
Praising the work of firefighters, the PM said it was great news that much of the town had been spared.
Trudeau promised the government would do all it could to help in the rebuilding effort and praised ordinary Canadians for their response.
"Thank you for your generosity. In just 11 days $86 million (58.75 million euros) has been donated to the Canadian Red Cross to help the people of Fort McMurray. With our government matching individual donations that figure will rise much higher. The important work of figuring out when and where and how we can start to rebuild has only just begun,'' Justin Trudeau told a news conference.
Over Fort Mac today. We owe our gratitude to the firefighters who worked so hard to preserve and protect the city. pic.twitter.com/melJmMInmq

— Justin Trudeau (@JustinTrudeau) 13 May 2016
Work has begun to restore electricity and water supplies.
The Bank of Montreal has predicted the wildfire could cost insurers as much as $9 billion (6 billion euros) while Moody's has estimated a total around $5 billion (3.4 billion euros).
There are warnings that the fire will damage the economy and oil industry, and that loan sharks may look to take advantage of people forced to flee their homes and who are short of cash.