Obama govt: US schools must respect transgender 'identity' over 'bathroom laws'
Comments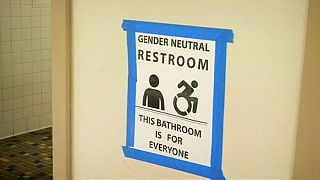 The US federal government is warning American schools not to discriminate against transgender students, as the row over so-called "bathroom laws" threatens to spread.
It comes as several states are considering following North Carolina in obliging people to use toilets matching their sex at birth.
They are angry at new non-binding guidance from the Obama administration. In a letter from the US Education and Justice departments, school districts nationwide are told that people should be able to use the facilities according to their gender identity.
"There is no room in our schools for discrimination of any kind, including discrimination against transgender students on the basis of their sex," US Attorney General Loretta Lynch said in a statement. She has drawn a parallel with some US states' former policies of racial segregation.
The issue has become the latest battleground over civil rights for transgender people, which has mobilised LGBT (lesbian, gay, bisexual and transgender) campaigners.
Big news! Historic new guidance for schools on trans students: https://t.co/YmaCsFLZJtpic.twitter.com/dlmsVPOZYf

— TransgenderLawCenter (@TransLawCenter) 13 May 2016
We support our transgender students. We respect their gender identity in all respects. https://t.co/BKTjE8bga7pic.twitter.com/cK9wA4bLVe

— Lily Eskelsen García (@Lily_NEA) 13 May 2016
The row also touches on questions of legal authority and raises the likelihood of fights over funding. The attorney general has reportedly warned that schools may face lawsuits or lose federal aid if they do not comply with the guidelines.
Texas has vowed not to adhere to the edict. "(Obama) has set a policy in place that will divide the country, not along political lines, but along family values and school districts," the Lieutenant Governor of Texas, Dan Patrick, told reporters in Dallas.
''He says he's going to withhold funding if schools do not follow the policy. Well in Texas, he can keep his 30 pieces of silver. We will not yield to blackmail from the president of the United States."
I would absolutely support a bill to keep men out of women's restrooms and locker rooms. https://t.co/PpFirBwDQX

— Dan Patrick (@DanPatrick) May 4, 2016
Arkansas Governor Asa Hutchinson described the government's instruction as "offensive, intrusive and totally lacking in common sense".
As Gov., I recommend that school districts disregard POTUS</a>&#39;s "guidance" on gender identification in schools. >> <a href="https://t.co/mFxgtOcbml">https://t.co/mFxgtOcbml</a></p>&mdash; Gov. Asa Hutchinson (AsaHutchinson) 13 May 2016
The federal government and North Carolina are suing each other over the state's law, which has sparked protests and boycotts from musicians such as Bruce Springsteen, and companies such as PayPal Holdings and Deutsche Bank.
North Carolina passed the law in March, the Republican-controlled General Assembly moving to prevent cities and counties in the state from having their own anti-discrimination rules. This followed an ordinance by Charlotte to allow transgender people to use restrooms according to gender identity.
The state's governor Patrick McCrory has claimed the law is "common sense privacy policy". Republicans have argued that it is necessary to prevent men from entering women's toilets.
But civil rights campaigners argue it is blatant discrimination against transgender Americans.
Mississippi has enacted legislation similarly viewed as discriminatory by civil and gay rights groups, and Tennessee and Missouri considered similar measures.
One activist, Wayne Maines, has written about the implications of the North Carolina law, arguing that it endangers the safety of transgender people.
Thank you usedgov</a> for ensuring transgender students are treated with the fairness, respect and dignity they deserve <a href="https://t.co/EUqn0ndl38">https://t.co/EUqn0ndl38</a></p>&mdash; ACLU National (ACLU) 13 May 2016