'Money Monster' and 'Eshtebak' premiere at Cannes as political films take centre stage
Comments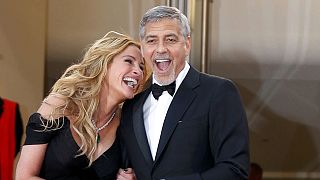 Jodie Foster's 'Money Monster' has premiered at Cannes. Starring George Clooney and Julia Roberts who makes her debut at the festival, it's one of only a few Hollywood films to tackle the financial crisis.
Clooney plays a TV financial guru who is held hostage live on air by a disgruntled viewer, played by Jack O'Connell.
Forty years since Jodie Foster's big screen breakthrough in 'Taxi Driver' in 1976, 'Money Monster' is only her fourth feature film as a director. It is being presented out of competition at Cannes.
"I think people do still want to make moves that make them think, that make them feel, that don't manipulate them," she said.
Dominic West plays a banker in Foster's film, said he was attracted by the fact it holds the financiers to account "in a very graphic, dramatic way".
"I hadn't seen much response to the financial crisis by Hollywood," he told a news conference just before the premiere.
The most glamourous #RedCarpetFestival_Cannes</a> for <a href="https://twitter.com/MoneyMonster">MoneyMonster#JuliaRoberts#GeorgeClooney more euronews</a> <a href="https://t.co/wHAUd6Txec">pic.twitter.com/wHAUd6Txec</a></p>&mdash; fred ponsard (fredponsard) May 12, 2016
Jodie Foster returns to #Cannes with 'Money Monster': "I've never made a movie like this" https://t.co/0G7ew8Mf6Rpic.twitter.com/ZmKfDTxE7a

— Hollywood Reporter (@THR) May 6, 2016
Euronews correspondent Frédéric Ponsard reported from Cannes:
"The film festival is glamour and the red carpet, but this year it's also about political films… Two fine examples at the beginning of this festival are: 'Money Monster' which battles against the world of high finance with the help of Hollywood's biggest stars, and 'Eshtebak' by Mohamed Diab which paints an uncompromising picture of Egyptian society today."
Featuring in the 'Un Certain Regard' category at Cannes, 'Eshtebak' ('Clash') examines the turmoil in Egypt in 2013 following the ousting of Mohamed Mursi from power, as supporters and opponents of the Muslim Brotherhood confronted each other on the streets.
The film has been praised for not taking sides, being described by the Hollywood Reporter as "one of the most telling depictions of modern Egypt yet filmed".
Opening film for "un certain regard" in Cannes! Proud! #Cannes#uncertainregard#Cannes2016#clash#eshtebakpic.twitter.com/9FWOmM0p4p

— Ashraf Hamdi (@AshrafHamdi) April 23, 2016