'Coup' is the only word for the impeachment process, says suspended Rousseff
Comments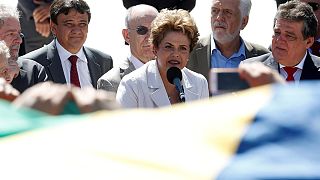 In an emotional speech to a friendly crowd, Dilma Rousseff has vowed to keep fighting.
Following the news of her suspension as President of Brazil she told a press conference that she will fight against impeachment 'with all available tools.'
"I may have committed errors, but I have not committed crimes," she said, stating that she is the legitimately-elected president.
"When an elected president is accused of a crime they didn't commit, the word for that in the democratic world is not 'impeachment,' it's a 'coup.'
"This is a fragile, legally inconsistent process. An unfair process launched against an honest and innocent person."
"The fight for democracy doesn't have a deadline. It's a constant fight that demands constant dedication from us all. I thank you all very much."
The Senate disagreed.
It voted 55-22 in favour of prosecuting Rousseff on charges of breaking budget laws ahead of her 2014 re-election.
She is suspended for up to 180 days, pending the Senate trial.
Vice President Michel Temer, who just last week was fined for violating campaign finance limits, will assume the presidency. But the conviction means he may face a years-long ban on running for office.