Rousseff's suspension divides Brazilians
Comments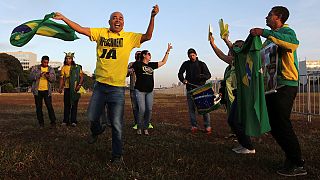 Pro-impeachment protesters have turned out in Brasilia to celebrate news that President Dilma Rousseff will go on trial for allegedly breaking budget laws.
Fireworks rang out in cities across the country after the vote that followed a 20-hour session in the Senate.
It's an historic move that has got everyone talking.
"I used to like Dilma (Rousseff) a lot but at this moment I think Brazil should be congratulated, and I am sure things will get much better," said Jose Costa, a shop owner.
Conseicao Santos, a petrol worker, commented: "Let's see what is going to happen now. I hope that (Temer) can fix all the damage made to our country."
But not everyone's happy with the impeachment move.
Many Brazilians are concerned that an end of Workers Party rule could bring back bad times for the poor.
"It is a sense of social responsibility today being here in the name of democracy, social rights and the votes of 54 million Brazilians," said Heloisa Rosa, who joined an anti-impeachment demonstration.
Vice President Michel Temer, who takes over from Rousseff during the trial, has a tough job ahead.
The country's economy is mired in its deepest recession in decades – and confidence among Brazilians is waning.