Sanders and Trump triumph in West Virginia primary
Comments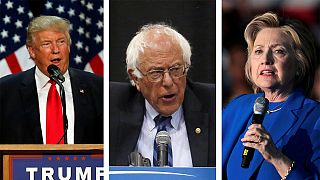 Democratic presidential candidate Bernie Sanders has won in West Virginia's primary.
However, the senator still trails rival Hillary Clinton's lead.
He told his supporters he was the best Democratic candidate to beat Donald Trump.
"Our message to the Democratic delegates who will be assembling in Philadelphia is while we may have many disagreements with secretary Clinton there is one area we agree, we must defeat Donald Trump," said Sanders.
Meanwhile, Donald Trump was declared the Republican winner in West Virginia and Nebraska. Although he is the only candidate left in the race, his rivals who dropped out last week remained on the ballot.
Trump may be popular with voters but he's struggling to get the Republican party behind him. House Speaker Paul Ryan has said he won't endorse Trump because he lacks conservative principles. However Ryan appeared ready to try and bridge tensions.
"It's going to take more than a week to repair and unify this party and so I think what we want to do is sit down together and talk about how we can unify the Republican Party," Ryan said in a TV interview.
The next primaries this month will be in Oregon, Kentucky and Washington where polls show Sanders is likely to perform well.