Bernie Sanders: The 'democratic socialist' setting sights on White House
Comments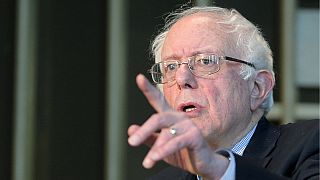 Bernie Sanders is a self-described democratic socialist.
A man advocating nothing less than "political revolution," as he battles it out for the US Democratic presidential nomination.
In Iowa, he finished just barely behind rival Hillary Clinton and won overwhelmingly in the New Hampshire primary.
The Vermont Senator was born in the New York City borough of Brooklyn to Polish Jewish parents 74 years ago.
He quickly became interested in politics. In the early 1970s, he ran for Vermont State, but he lost out on that and other campaigns to become governor that followed.
His first big success came later, in 1981, when he was elected mayor of Burlington in Vermont.
It was in May last year that Sanders entered the presidential race.
If a bank is too big to fail, it is too big to exist. pic.twitter.com/CkPKm80G1X

— Bernie Sanders (@SenSanders) 3 February 2016
Sanders is in favour of stepping up taxes on the wealthy, he wants more accountability when it comes to Wall Street and he is a supporter of a state-administered health system.
Although Sanders is setting his sights on the Democratic nomination, his political career has been as an independent.
He would be the oldest person to be elected US president, if he wins the race for the White House.