Donald Trump: The brash billionaire shaking up White House race
Comments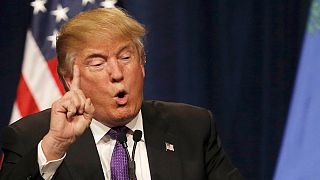 The prospect of Donald Trump becoming the Republican presidential nominee was the stuff of jokes in Washington. An idea many rolled their eyes at.
But with the brash billionaire notching up a string of wins, including in South Carolina, the feeling now is that he's built up so much momentum that he can't be stopped.
#MakeAmericaGreatAgain#Trump2016pic.twitter.com/FvIUXMkrjj

— Donald J. Trump (@realDonaldTrump) 26 February 2016
Trump speaks to Americans who feel betrayed by political elites, promising great things for their country.
THANKYOUNEVADA! WE WILLMAKEAMERICASAFE & GREATAGAIN! https://t.co/ClAnLIg0ADpic.twitter.com/zVvyVCIaD4

— Donald J. Trump (@realDonaldTrump) 24 February 2016
Trump's business empire
Born in New York 69 years ago, he took over the family business in 1971 and built an empire in luxury real estate.
Hotels, casinos, golf courses, they have all gone up under Trump.
The Miss Universe and Miss USA contests have also been attractive investments.
Larger than life character
Trump's appearance on the reality TV show "The Apprentice" ensured more fame for the larger-than-life character.
He has been married three times, with his divorces the stuff of tabloid dreams, and he has five children.
Whipping up controversy
Trump announced his candidacy for president last June, after being candid in the months before.
His controversial comments have caused turbulence. He has called for a ban on Muslims entering the US and he's vowed to put up a wall on the Mexican border.
Republican voters in South Carolina absolutely love Donald Trump's Muslim ban. https://t.co/KnkiUJnJJepic.twitter.com/np7cU8mTtx

— Gawker (@Gawker) 21 February 2016
Trump has also questioned the religion of his fellow Republican contenders.
"I have never seen anybody that lied as much as Ted Cruz and he goes around saying he's a Christian. I don't know, you are going to have to study that," Trump has said.
Vatican warning
Trump has also sent a stark message to the Vatican, after the Pope suggested that his views were "not Christian."
"If and when the Vatican is attacked by ISIS, which as everyone knows is ISIS's ultimate trophy, I can promise you that the Pope would have only wished and prayed that Donald Trump would have been president," Trump said in February.
Donald Trump: The Pope will regret calling me un-Christian when ISIS attacks the Vatican https://t.co/lRwJ6qsZoK

— Vox (@voxdotcom) 18 February 2016
Like him or loathe him, Donald Trump is turning heads. A man who could well achieve the once unimaginable, becoming the Republican presidential nominee.