Baghdad rocked by a series of car bombs
Comments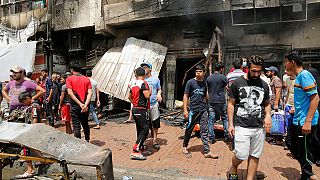 Three bomb blasts hit Baghdad
More than 80 dead, scores injured
Angry survivors say government cannot protect them
The Iraqi capital has been rocked by a series of bomb blasts.
"They cannot keep us safe"
15 people have been killed in the northern Kadhimiya area of Baghdad.
Seven more died in an attack in the west of the city.
It comes after an earlier attack at a crowded market in northern Baghdad.
At least 64 people were killed and 87 wounded.
Iraqi police say the device exploded in the Shia district of Sadr City during the morning rush hour.
The militant Islamic group ISIL says it carried out the attack, which it says targeted Shia militia fighters.
However, many of the victims were women and children, officials say. Several people are said to be in a critical condition.
Inna lillah…
More than 50 killed in Sadr City bombing#Baghdad#Irakpic.twitter.com/iW4ro9uZTQ

— ShiaⒺAliع (@kassamally) May 11, 2016
Angry survivors say politicians are failing to protect them.
"The market was full of young people," one man said. "They cannot keep us safe. They say they have metal detectors to detect explosives. I wonder where these detectors are. How can car bombs get though checkpoints?"
Baghdad is in the grip of an acute political crisis.
Parliament is unable to meet. The government is effectively paralysed by factional in-fighting.
ISIL has often targeted busy commercial centres, causing heavy civilian casualties.