Israel hopes to normalise ties with Turkey soon, say officials
Comments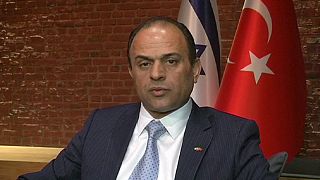 Israeli officials say efforts to restore full diplomatic ties with Turkey must now wait until a new government is formed in Ankara.
Israel hopes to normalise ties with Turkey soon, say officials
Relations were badly damaged after a deadly raid by Israeli forces on a Turkish aid ship bound for Gaza in 2010.
The on-going sea blockade of Gaza by Israel still remains a key sticking point, but Israel's top diplomat in Turkey is hopeful a deal will be struck.
"We have something like eight or nine hundred trucks coming into Gaza on a daily basis and this number can be extended if needed and we are more than willing to enable Turkey to play that role. So the sea blockade is actually a non issue in our eyes, in our view. And I believe that we already are beyond this point of disagreement with the Turkish authorities," said Shai Cohen, Israel's Consul-General in Istanbul.
In 2013, Israel apologised for the raid by its naval commandos on the Mavi Marmara.
It has also promised to compensate the families of the nine victims killed on the flotilla which was taking aid the Palestinian territory.