Vice President of French National Assembly resigns amid sexual harassment allegations
Comments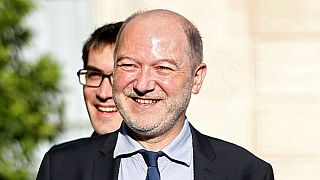 In a day of resignations across Europe, Denis Baupin has stepped down as Vice President of the French National Assembly.
The move follows accusations of sexual harassment by fellow colleagues.
In interviews with the French media, women alleged Baupin had sent explicit text messages and one politician claimed to have been groped.
Sandrine Rousseau, a spokesperson for the Green Party, said:
"I was organising a meeting and, at some point, I took a break. I wanted to go to the toilet and, in the corridor, Denis Baupin pressed against the wall and tried forcefully to kiss me."
Baupin denies the allegations.
His lawyer says he may take the four Green Party members making the accusations to court for defamation.
In March, he took part in a campaign denouncing violence against women, denies the accusations.
Elen Debost, the Deputy Mayor of Le Mans was among those who spoke out.
"When I saw the photo and read the title I went instantly to throw up. Generally, I am not such a delicate person, but I had the impression that by presenting himself like this, he was spitting in our faces."
Baupin recently left the Green Party over disagreements about strategy.
The President of the National Assembly, Claude Bartolone, asked the 53-year-old to resign.
However, he has not surrendered his seat as an elected member of the lower house of parliament.
Baupin is married to the Socialist government's Housing Minister, Emmanuelle Cosse.