Kenyan police fire tear gas at protesters calling for electoral body to resign
Comments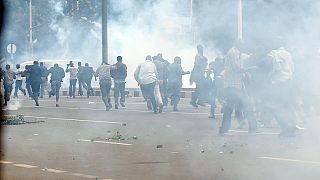 Kenyan police have clashed with opposition leaders and their supporters who are calling for the dissolution of the country's electoral body.
With 15 months until elections, they had been staging a sit-in along the highway outside the offices of the Independent Electoral and Boundaries Commission in Nairobi, who they accuse of bias and corruption.
Police and paramilitary forces tear-gassed opposition supporters as they tried to enter the building.
Kenya police unleash their latest anti-riot gear to deal with CORD protest https://t.co/K1diy9WVoWpic.twitter.com/VBwmhRK30q

— The Standard Digital (@StandardKenya) May 9, 2016
It marks the second time the opposition have tried marched on the commission's offices.
Anyang Nyong, one of the opposition leaders told reporters, "The IEBC (Independent Electoral and Boundaries Commission) is discredited, they mismanaged the last election and they have not shown any sign of change so you can't go to the next election with the same IEBC. We don't want to put this country in to problems. We want an IEBC in which the commissioners have integrity, they are all agreed to by all parties that have managed the elections like we had in 1997."
The opposition is threatening to boycott next year's election unless the commission resigns. However, the leader of the National Assembly argued that there is a procedure to disband the body written into the constitution. Kenyan media reported that the electoral commission would block the opposition from running in elections if they continued to intimidate members.
There are fears over a repeat in violence that marred the 2007 election, in which 1,000 people were killed.