Russia says Aleppo truce in Syria extended for 72 hours
Comments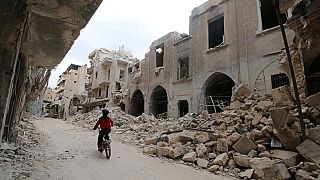 Russia's defence ministry has said a "regime of calm" truce in Syria's northern city of Aleppo has been extended by three days, according to the Syrian state news agency SANA, beginning at 1am on Saturday local time.
It follows on from the two-day halt in fighting which began on Wednesday, bringing some relief after two weeks of clashes which killed hundreds of civilians.
Moscow, which has been supporting the Syrian government with airstrikes, reportedly says the extension to the truce also covers parts of Latakia province.
Aleppo was Syria's industrial heartland before the civil war started but has witnessed the worst violence over the past year.
The short truce has been welcomed by residents.
A wider ceasefire brokered in February by the US and Russia for the whole of Syria is close to collapse.
Fighting continues south of Aleppo between government forces and rebel groups including the al-Qaeda affiliate the al-Nusra Front, which is not included in the accord.