Canada wildfire 'could double in size'
Comments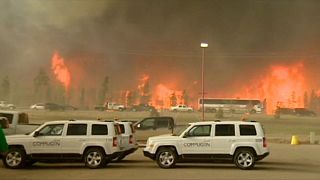 Canada's monster wildfire could double in size, officials are warning – meaning there is no time to lose for those still caught in its path.
Fleeing for their lives, people have piled into at least 1,500 vehicles on the only highway out of Fort McMurray in Alberta.
Helicopters hovered overhead watching for flames on Friday, and police set up emergency fuel stations along the road to keep the line of cars moving. They headed toward safety south of Fort McMurray in towns including Lac La Biche, 290 km away, and Edmonton farther on.
Fort McMurray residents can only hope for rain to halt massive wildfire https://t.co/WpD4KRozC1pic.twitter.com/tlMqYuYWAH

— CBC News (@CBCNews) 7 mai 2016
The convoys were halted briefly around midday due to heavy smoke, but officials said the majority of vehicles had already passed through town by then.
"Our government has met all the Alberta government's requests for assistance, including providing air assets and 7,000 cots for evacuees in emergency shelters, with 13,000 more on the way," Canadian Prime Minister Justin Trudeau announced.
"We continue to monitor the situation closely with high temperatures and shifting winds changing rapidly and we continue to urge caution to all evacuees."
Charred ruins are all that is left of some neighbourhoods of the oil town with 1,600 structures thought to have been destroyed by a blaze already described as bigger than New York City.
#Alberta Wildfires bring families together in the midst of chaos and destructionhttps://t.co/eA2GIDtVbxpic.twitter.com/IUiTtJrvRH

— TorontoStar (@TorontoStar) 7 mai 2016
The inferno, the largest of 40 wildfires burning across the province of Alberta, has forced some 88,000 residents, the entire population of Fort McMurray, to flee for safety, and has threatened two oil sands production sites south of the city.
Chad Morrison, an official with the Alberta government wildfire unit, told reporters in the provincial capital Edmonton, about 430 km to the south, that the blaze was likely to double in size by late on Saturday, the end of its first week.