Turkish journalists sentenced for revealing state secrets
Comments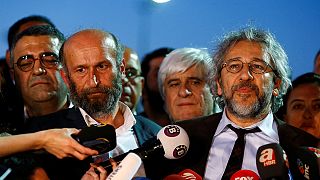 Prominent Turkish opposition journalists Can Dundar and Erdem Gul have been sentenced to five years and ten months and five years respectively for revealing state secrets.
Dundar, the Editor-in-Chief of Cumhuriyet newspaper and Gul, the daily's Ankara bureau chief, were convicted for publishing footage purporting to show Turkish state intelligence transporting weapons into Syria in 2014.
Both were acquitted of trying to overthrow the government.
"This sentence was not only passed to suppress and silence us. Those bullets were not only fired to prevent our newspaper from reporting. But this was also an assassination attempt aiming to intimidate the Turkish media and make us scared of writing," Dunbar declared following the verdict.
The case has drawn international criticism of press freedom in Turkey.
TURKEY - Two opposition journalists Can Dundar & Erdem Gul jailed in Turkey press freedom trial. By @ozannkosee#AFPpic.twitter.com/BWzXUBBNEj

— Frédérique Geffard (@fgeffardAFP) May 6, 2016
Sentencing came a matter of hours after Dundar was shot at outside the Istanbul court by a man shouting "traitor."
Turkish journalist Can Dündar, accused of revealing state secrets, escapes attempted shooting outside courthouse. pic.twitter.com/MCPtpDPg0Y

— AJ+ (@ajplus) May 6, 2016
He was unharmed and the gunman detained. However one of the bullets fired is believed to have grazed a reporter covering the trial.