Cameron says his reforms make staying in EU the better option
Comments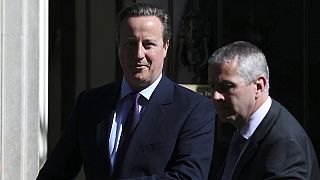 British Prime Minister David Cameron has defended his position on his country remaining in the EU before a parliamentary committee.
With six weeks to go before the referendum, he insisted London would be in a better position within the bloc due to the agreement he reached in Brussels in February.
"I don't sit here and say the EU is perfect, it's an organisation which needs reform. I think my changes have created some very worthwhile reforms and on the basis of a hard headed calculation of what's best for the country, whether it is being stronger economically, whether it's being able to get things done in the world, whether it's keeping ourselves safe against terrorists – I have no hesitation as prime minister and I've been doing this job for six years, to say we are better off voting to remain in."
The debate in the UK over a possible Brexit is dominating the media although often the public appears confused over the interpretation of the so called "facts" by both sides of the argument.
Two polls in the last 24 hours now have the eurosceptic "Leave EU" campaign ahead by one percent.
However the poll of polls figures are as follows: