'Misleading at best and flat out wrong at worst' US reacts to Greenpeace TTIP leak
Comments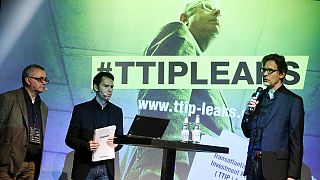 Greenpeace has released leaked secret TTIP negotiation documents that show the US is applying pressure on the EU to weaken European protection laws on the environment and public health.
#TTIPleak – we are very grateful to Greenpeace</a> for the leak but it underlines our fears on the EU-US <a href="https://twitter.com/hashtag/TTIP?src=hash">#TTIP</a> talks <a href="https://t.co/A6Tb75y83G">pic.twitter.com/A6Tb75y83G</a></p>&mdash; Greens in the EP (GreensEP) May 2, 2016
The Transatlantic Trade and Investment Partnership is an attempt to create the world's biggest free trade zone between the US and European Union.
Jorgo Riss is Greenpeace EU director.
"The EU in relation to environment protection, public health and product standards that are relevant for consumers is a fairly bad position and the United States is much worse. So the prospect of having a final agreement that is between bad and worse is not a encouraging one."
35,000 Protest #TTIP in Hannover

Only 1/5 Germans favour proposed EU-US Trade Deal. https://t.co/Iveo9Z1ClBpic.twitter.com/aiI5mKZpx0

—

LEAVE

.EU (LeaveEUOfficial) <a href="https://twitter.com/LeaveEUOfficial/status/724274272017981445">April 24, 2016</a></blockquote> <script async src="//platform.twitter.com/widgets.js" charset="utf-8"></script> <b></b> The European Commission has vowed to protect environmental laws and defend international standards. <b></b> Greenpeace insists that "TTIP is about a huge transfer of power from people to big business." <b></b> The top EU negotiator Ignacio Garcia says the leaks are not helpful:"Does the the leak bother us? Yes, of course, it's not good for trust in the process that such a document is leaked. But there you go, that's all I can say for the moment. Thank you." <b></b> The "US trade representative":https://ustr.gov/ttip said the interpretation of the leaked documents "appear to be misleading at best and flat out wrong at worst.'' <b></b> Greenpeace has been quick to maximise access to the documents setting up mobile reading stations in Berlin and projecting the text onto the Bundestag. <b></b> <blockquote class="twitter-tweet" data-lang="en"><p lang="en" dir="ltr">Greenpeace published about half of the confidential deal on website <a href="https://t.co/volUGjQXJr">https://t.co/volUGjQXJr</a>: <a href="https://t.co/MVPtnI6O6e">https://t.co/MVPtnI6O6e</a> <a href="https://t.co/c1ic7gzeR0">pic.twitter.com/c1ic7gzeR0</a></p>&mdash; Reuters World (ReutersWorld) May 2, 2016
Democracy Needs Transparency! Greenpeace activists project #TTIPleaks documents on the Berlin Reichstag. pic.twitter.com/pWVkpSTMzt

— Greenpeace e.V. (@greenpeace_de) May 2, 2016