US piles on pressure in trade talks with EU
Comments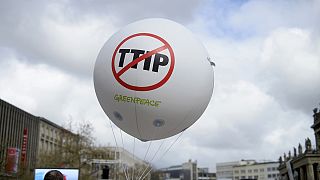 The US has been putting pressure on the European Union to scrap or change environmental and health legislation in trade talks according to leaked documents.
German media outlets are already quoting parts of some 240 pages of internal negotiations which Greenpeace will publish in full today.
Tomorrow #TTIPLeaks#Greenpeacepic.twitter.com/qC3EDtIo5N

— Martin Lloyd (@mrlloydgp) May 1, 2016
The group claims it could mean EU approval being given for genetically modified foods with US demanding that all its producers of GM food have automatic access to the regulatory procedures of the EU.
Stefan Krug, Greenpeace Germany:
"We will publish these papers, because the entire negotiations on the TTIP are nontransparent in a really scandalous manner. They are not negotiating on any company trade secrets, but on environmental and consumer protection, as well as labour rights of more than half a billion people in Europe."
Opposition to the Transatlantic Trade and Investment Partnership (TTIP) has already been growing. The leaked papers are said to show what the US negotiators are demanding of the EU, and what the European Commission is being asked to sacrifice in order to seal the deal.
The documents however, are also said to reveal that the two sides have reached an impasse over "irreconcilable differences" which are casting doubts of the deal.