Obama holds mini summit with EU leaders on business and security issues
Comments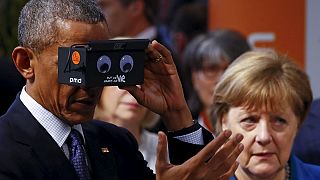 Angela Merkel and Barack Obama visited the Hannover industrial trade fair on Monday, before the US president holds talks with European leaders.
This is the last day of Obama's final visit to Germany as American leader, and global business and security issues have dominated the agenda.
Obama is wrapping up a three-nation trip that also took him to Britain and Saudi Arabia.
Obama will join Merkel for an informal mini-summit with the French President, the Italian Prime Minister and the British Prime Minister.
There is no shortage of topics, from the migrant crisis to the fight against ISIL militants.