Leicester City win Premier League after Tottenham draw with Chelsea
Comments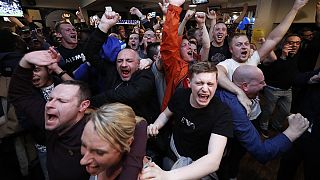 Leicester City were crowned champions of the Premier League for the first time in the club's history after closest title rivals Tottenham let slip a two-goal lead to draw with Chelsea.
That result has left Leicester with an unassailable seven point lead with two games left.
Sunday's draw with Man United prevented the Foxes from celebrating the title on the field of play but they didn't have to wait long.
Leicester City's title-winning champagne was put on ice on Sunday after drawing 1-1 with Manchester United at Old Trafford.
A win would have secured them the Premier League crown but the draw just prolonged their wait for a day until Tottenham took on Chelsea needing a win to keep alive their chances.
Anthony Martial opened up the scoring on eight minutes for United who are chasing a top-four finish this term.
Not long after Leicester City fans across the country – and in the club chairman's native Thailand – were up on their feet and raising the roof with celebrations as Wes Morgan headed home the equalizer.
Morgan's goal nine minutes after Martial's opener secured the draw for Leicester with boss Claudio Ranieri saying after the match he would miss the Chelsea-Spurs game as he's flying home to spend time with his mother.
"Now I go back in Italy after the finish of the press conference and I go back at the same time of the match. Then, I will be the last man to know the result in the U.K." Ranieri joked. ''I want to meet my mother, 96 years old and I'd like to go to have a lunch with her."
While Ranieri was flying back to England Leicester's dream finally came true when Chelsea came from behind to draw with the Tottenham in a thrilling tie at Stamford Bridge.
Harry Kane and Heung-Min Son scored for Spurs before Gary Cahill pulled one back for the hosts.
Edin Hazard then hit a stunning equalizer with seven minutes left to end Tottenham's title hopes and leave Leicester celebrating the club's maiden crown.
It has been a stunning rise from bottom of the pile for Leicester who were fighting a relegation battle while Chelsea marched towards last season's title.
The difference in value of these two title-winning starting elevens is just as amazing.
The Chelsea price tag for their starting eleven last year was 232 million euros while Leicester's value this term came in at some 32 million euros, proving bags of money isn't always the answer.
Up and down
Our Up & Down list this week is dedicated to the main men who helped produced a thrilling and very surprising Premier League title-race till the end.
Well top of the pile is of course Foxes boss Claudio Ranieri who masterminded this amazing title-winning campaign.
It is the first career topflight trophy for the 64-year old Italian who failed to do it with bigger and more prestigious clubs such as Chelsea, Juventus and Atletico Madrid.
If Ranieri is the brains Jamie Vardy and Riyad Mahrez are goalscoring brawn.
Vardy has top-scored so far with 22 while Player of the Year Mahrez has chipped in with a very decent 17 goals and 11 assists – the pair are the most effective players in this year's Premier League campaign.
Leicester skipper and centre-half Wes Morgan has been a tower of strength for his side this season.
The defender's stamina, fitness and consistency has been exemplary – He is the only outfield player in the league to complete every single minute of every league game so far.
Snapping at Leicester's heels throughout the season have been Tottenham whose coach Mauricio Pochettino has been a huge success at White Hart Lane since arriving in 2014.
He has superbly spearheaded the club's title challenge this season and deserves to be on our up list.
We might be wrong
This week we're going to predict the two teams to reach the final of the Champions League on May 28 at the San Siro.
Atletico Madrid start with a slight advantage over Bayern Munich at one nil from the first leg, while it's evenly balanced between Real and Manchester City with no goals on the board so far.
Send us your predictions for these games on social media using #TheCornerScores.
We have predicted that Bayern Munich will beat Atletico Madrid 2-1 but that will send the Spaniards through to their second final in three seasons on away goals.
We feel Real Madrid will beat Man City 3-2 and therefore set up a repeat of the 2014 final with their La Liga and city rivals.
Bloopers
Let's wrap up this special episode dedicated to the Premier League champions, with some funny videos found on the net to help celebrate this amazing season. The Corner returns next Monday, to celebrate other champion of a European league. (Check out video above)