Venezuela: More pay and less sleep as economic crisis hits hard
Comments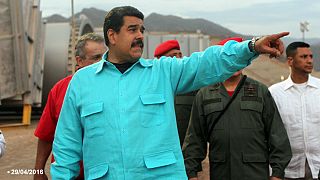 A 30 percent rise in the minimum wage, announced by Venezuelan President Nicolas Maduro on Saturday night, may seem like a wholly positive move.
It takes effect, after all, on May 1, International Workers Day.
Yet this, the latest in a series of wage hikes, comes amid rampant inflation and critics say it shows Maduro's utter failure to tackle a deep recession.
Venezuela leader hikes minimum wage 30 percent amid raging inflation https://t.co/3vT9cWgfR5pic.twitter.com/I3XWAsJDg6

— Reuters Top News (@Reuters) 1 mai 2016
Venezuela's economic crisis has seen people struggling with shortages of basic goods as the country suffers the effects of the fall in the price of oil.
Citizens also lost half an hour's sleep on Saturday night as clocks moved forward, so that there will be 30 minutes more daylight in the evening in efforts to save power.
Caracas resident Alberto Perez is sceptical.
"We are not used to saving energy. We are not Colombia or Peru where this is not a lot of energy and the people look after it. It is difficult here and I don't think this is going to work. It definitely won't work," he said.
Drought, blamed officially on El Nino, has reduced water levels at Venezuela's main dam and hydroelectric plant to near critical levels. Hence daily power cuts, blamed by the opposition on the government's inability to manage the energy sector.