Collapsed Kenya building 'had no occupancy permit'
Comments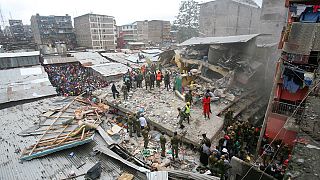 With up to 16 people now dead and dozens feared missing, reports from Kenya say the six-storey residential block that collapsed late on Friday amid heavy rain in Nairobi had no occupancy permit.
There all also questions about whether it should ever have been built – with officials said to have ruled the site was too near to wetlands.
"They are not supposed to be here," said one local resident, speaking of nearby housing blocks.
Pointing out that such properties should not be built within immediate proximity of the river, he added: "Now because of this corruption in this country, you see what it has done for our colleagues and friends".
The arrest of the building's owners has been ordered as has a mass evacuation, amid concern for the safety of
premises nearby.
At the same time, the search for survivors is continuing.
Kenya's Red Cross has been at the forefront of the search and rescue operation, as well as assisting survivors.
A well wisher donates clothing at Starehe CDF hall, Huruma. #HurumaCollapsepic.twitter.com/7nA2jhCd0f

— Kenya Red Cross (@KenyaRedCross) 1 mai 2016