Air strikes and shelling cause more deaths in Aleppo
Comments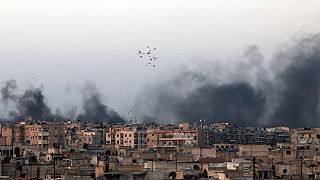 Aleppo sustained another day of air strikes and shelling on Friday. A week of fierce fighting in Syria's second city has seen at least 200 people killed and many more injured.
In the rebel-held east eleven people were reported dead and there were claims that a medical facility was destroyed – the second within a week.
Away from the fighting the White House said on Friday that the US and Russia are working to reinvigorate the ceasefire agreement for Syria that has consistently broken down due to repeated violations.
In a strike on Wednesday blamed on government forces Medecins Sans Frontieres said 50 people including six medical staff died in an attack on the al-Quds hospital in Aleppo.
UPDATE: Death toll from #AlQuds attacks climbs to 50: patients, 6 med staff in MSF-supported hospital, & people in surrounding area #Aleppo

— Doctors w/o Borders (@MSF_USA) April 29, 2016
The victims included Dr Muhammad Waseem Maaz, one of the last remaning paediatricians in the city.
A Facebook tribute posted by a colleague has now been shared more than 23,000 times.
Meanwhile in Rome the water in the city's Trevi Fountain was dyed red in honour of Christians dying through persecution around the world, including Syria.