UN urges restraint in Syrian conflict as peace talks stumble on
Comments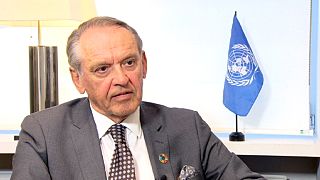 Euronews correspondent Sándor Zsiros spoke with UN Deputy Secretary-General Jan Eliasson during his visit to Brussels this week.
In this excerpt of the interview, the UN's number two underlined his concerns about the EU-Turkey migration deal, as well as the prospects for a political solution to the Syrian conflict.
Sándor Zsiros, euronews: The issue of the deportation of the migrants to Turkey is being criticised. What do you think about this element of the EU-Turkey deal?
Jan Eliasson, UN Deputy Secretary-General: What is important is, of course, that you always have an individual assesment and that you make sure that people who are returning to – in this case Turkey – will not be requested to go to Syria. And we are looking into this issue and we haven't find any proof that this is the case. There are some rumours about that but I think it is important that we live up to the 1951 refugee convention.
Sándor Zsiros, euronews: We also need to talk about the root causes of the migration pressure. Do you think that a viable solution to end the Syria war might come in the near future?
Jan Eliasson, UN Deputy Secretary-General: Now regretfully the last week we have had negative developments. We have seen increased fighting around Aleppo, Damascus, Idlib. And this is very, very worrisome. And we hope that the parties on the ground, but also the powers that can influence those parties now tell them to exercise restraint. We cannot lose this opportunity to start talks. We have had weeks of talks; we will now enter this more serious phase of the talks and we hope very much that we will be able to consider this path of finding a political solution. Going back to war would be a complete disaster.