Former Auschwitz guard apologises to Holocaust victims
Comments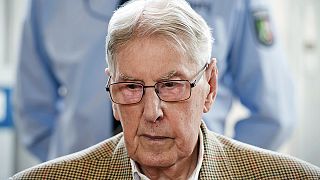 A former Auschwitz guard on trial in Germany has apologised in court to victims. He told them he regretted being part of a criminal organisation that had killed so many people.
Reinhold Hanning is charged with being an accessory to the murder of at least 170,000 people.
Holocaust survivors had pleaded with the former guard to break his silence.
"I am not angry, really not," said 95-year-old Auschwitz survivor Leon Schwarzbaum. "I don't want him to go to prison but he should have told us more so that today's generation, which is growing up now, would learn about the truth of what happened in Auschwitz."
A verdict is expected at the end of next month.
Germany is holding what is likely to be its last trials linked to the Holocaust in which more than six million people, mostly Jews, were killed by the Nazis