Berlin and Vienna pressure Rome to take responsibility for migrants
Comments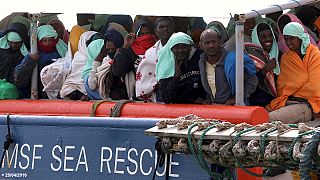 Germany's interior minister said on Friday that migrants should no longer be able to get to northern Europe through the former Yugoslav Republic of Macedonia and Serbia.
Thomas de Maiziere told a news conference that there was now concern that the number of refugees coming from Libya along alternative routes would rise.
"I already said in Vienna that it's clear that the Balkan route is a thing of the past and no longer will or should be a place from where people will be waved through to Germany and Austria and to the centre of Europe," said de Maiziere.
He was speaking after a meeting with his Austrian counterpart Wolfgang Sobotka, as work continued on constructing a border fence at the Austrian side of the Alpine Brenner Pass crossing to Italy.
Sobotka said the fence would send a clear message.
"There won't be the image of a seal-off. Rather, this is a clear signal that if the 200,000 to one million people waiting in Libya to travel north start moving, we will be in a position to effectively close this border," Sobotka said.
He added that the measure was necessary to prevent the Brenner Pass turning into a major corridor for migrants looking to reach northern Europe after arriving to Italy through the Mediterranean.
"What we have demonstrated is that the rule of law, the essential measure for us is that we want to register people who come to Austria, that our borders are not overrun," Sobotka said.
"This border management that has been in place since February is effective and we have applied this on the border with Hungary … and we are preparing for this on the border with Italy," added Sobotka.
De Maiziere and Sobotka both piled pressure on Italy to take responsibility.
"What is happening at the Brenner border crossing lies first and foremost in the hands of Italy," de Maiziere, said, adding that on the issue of border controls, states were working together but still needed a few more days to reach a European solution.