Italian protesters clash with Austrian police at Brenner Pass
Comments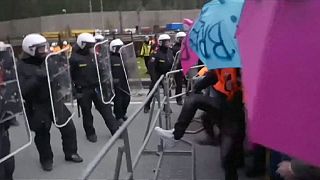 Italian demonstrators call for an end to the deportation of migrants under recent deals, in a confrontation with Austrian police at the Alpine Brenner Pass.
Hundreds of people had also joined the march, including some leftist politicians to condemn Austria's decision to toughen border controls in response to the unprecedented migrant flows into Europe.
Scuffles broke out when one group tried to breach the barriers erected by the security forces.
One demonstrator was arrested but no injuries were reported.
Austria said this month it would introduce tougher controls from June 1 at the latests. Italy says the plan breaches EU rules on the free movement of people.
The Brenner Pass is the most important Alpine crossing for heavy goods traffic and the controls,if introduces, risk slowing down transport and hurting trade between Italy and her top trading partner, Germany.