EU 'concerned' about Austria's fence along border with Italy
Comments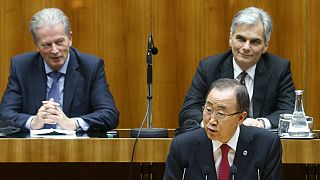 The European Union's executive arm says it is concerned that Austria is building a border fence and control station at the country's main Alpine crossing to Italy. The project is scheduled to be completed by the end of May.
UN Secretary General Ban Ki-moon told Austria's parliament on Thursday (April 28) that he was alarmed at the growing xenophobia in the country.
"Such policies and measures negatively affect the obligations of member states on the international humanitarian law and European law," said Mr Ban. "I welcome the open discussions in Europe including in Austria on integration. But I am alarmed again about growing xenophobia here and beyond."
The Brenner crossing links Italy and Austria with a multi-lane highway, a dual carriageway and railway tracks.
Italian protesters clashed with Austrian police on Thursday, a day after Vienna passed some of Europe's toughest asylum rules.
Italy's Prime Minister Mateo Renzi will discuss the issue with the EU Commission President Jean-Claude Juncker in Rome next week.