US begins advanced warplane deployment to bolster NATO allies
Comments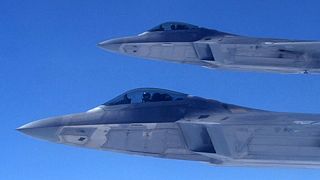 Two of the world's most sophisticated warplanes have touched down in Romania as part of the United States' biggest European deployment of F-22 fighters.
The exercise is aimed at beefing up military support for NATO's eastern European allies who say they face aggression from Russia after its annexation of Ukraine's Crimean peninsula.
President Barack Obama's attempt to bolster NATO's eastern members such as Poland, the Czech Republic and Romania is termed the European Reassurance Initiative.
The US has deployed 12 F-22s, which are almost impossible to detect on radar. The technology is considered so advanced that the US Congress has banned makers Lockheed Martin from selling them abroad.
Tensions are rising and Russia says the NATO build-up is stoking a dangerous situation.