Oklahoma Thunder beat Dallas to reach Western Conference semi-finals
Comments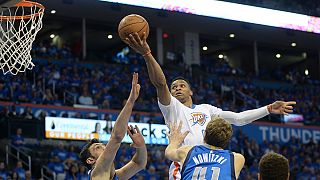 Russell Westbrook starred as the Oklahoma City Thunder beat the Dallas Mavericks in Game five of their best-of-seven first round playoff to complete a 4-1 win and reach the Western Conference semi-finals.
Westbrook was on fire at the Chesapeake Energy Arena in Oklahoma City.
He had 36 points, 12 rebounds and nine assists.
Westbrook nailed 13 out 23 from the field and hit 7 out of 8 free throws.
Kevin Durant chipped in with a very helpful 33 points while Steven Adams added 15 and 10 rebounds as the Thunder stormed to a 118-104 victory.
Dirk Nowitzki scored 24 points for the Mavs in defeat.
As Dallas' NBA season comes to an end Oklahoma move on to a Western Conference semi final playoff with the San Antonio Spurs.
That best-of-seven series begins on Saturday.