Obama: Europe and NATO can do more to fight Islamic State
Comments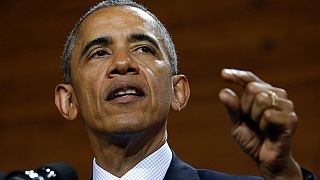 Barack Obama has delivered a stirring speech in defence of a unified Europe during the last day of his European tour.
Speaking in Germany at the world's largest industrial technology fair in Hannover, the US president said Europe's rich history was riven with conflict and its political achievements are the envy of the entire world. But Europe, he added, has often been complacent about its own defence.
"The United States and the entire world needs a strong and prosperous and democratic and united Europe. We need a strong Europe to bear its share of the burden working with us on behalf of our collective security. Even as European countries make an important contribution against ISIL, Europe, including NATO, can still do more," he said.
Obama went on to add that the West also needs to maintain sanctions against Russia over the Ukraine crisis until Moscow fully implements the so-called Minsk peace agreement.
"I hope Russia recognises that true greatness comes not from bullying neighbours but working with the world," he stated.