Congolese music icon Papa Wemba dies on stage aged 66
Comments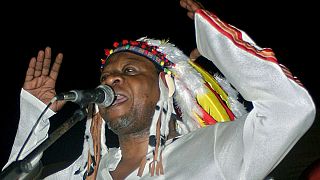 The renowned Congolese musician Papa Wemba has died at the age of 66 after collapsing on stage during a concert in Ivory Coast. It's thought he may have suffered a stroke.
Video from the show showed him slumped on stage behind a group of dancers, before they rushed to his aid.
Wemba was known in the Democratic Republic of Congo as the King of Rumba Rock, pioneering a blend of African, Cuban and Western sounds.
His career began in the late 1960s but gradually becoming a staple of African music over the following decades.
His unique mix of traditional African music with western rock led him to work with international stars including former Genesis singer Peter Gabriel.
He was involved in bands including Zaiko Langa Langa and later Viva La Musica that reached audiences around the world.
Prison
But he was also a controversial figure. In 2004, he was convicted of people-smuggling in France and spent three months in prison. The conviction related to a racket whereby illegal immigrants were taken to Europe posing as members of his band.
He was also once jailed in Zaire (now the Democratic Republic of Congo) for allegedly having an affair with a general's daughter.
À oui mon frère! Repose en paix papa Wemba, Kuru Yaka, le pape de la sape. La RDC te regrette déjà. https://t.co/Xc20pPMi0k

— Berry Djess (@berry_djess) April 24, 2016
Il était le « le roi de la rumba congolaise», le « pape » de la sape. #RIP Papa Wemba
https://t.co/oQC59b8GFt

— Josiane Kouagheu (@josianekouagheu) April 24, 2016
Congolese President Joseph Kabila has expressed his condolences, and there are likely to be large events paying homage in the coming days.