Clooney joins Armenia Remembrance Day commemorations
Comments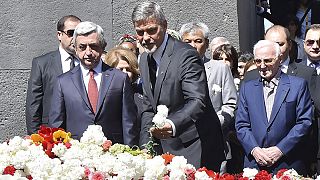 The people of Armenia and those who support them have not forgotten.
On Sunday's 101st anniversary, Armenian President Serzh Sarksyan, Franco-Armenian singer Charles Aznavour and film star and activist George Clooney led commemorations of the massacres of Armenians by Ottoman Turks during the First World War.
The massacres happened in 1915 but the pain, as people gathered at a memorial near the capital Yerevan, and for those across Armenia is still raw. Armenia says 1.5 million people died.
It, along with certain international institutions, like the European Parliament, and several states, such as France and Russia, recognise what they call "the genocide".
But Turkey and some historians reject the term of genocide, claiming Armenians were killed in battles in which Armenian paramilitary groups had rallied to the Russian army.