Armenians march to remember 1915 massacres
Comments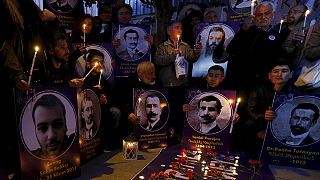 Tens of thousands of Armenians marched through the capital Yerevan on Saturday carrying torches to commemorate the victims of the 1915 massacres.
Demonstrators called for Turkey to recognise the killings by Ottoman Turks as a 'genocide'.
"We demand from Turkey the acknowledgement of the Armenian genocide as a crime against humanity that our ancestors have had. And we demand the remuneration and the repairs of losses back to the Armenian population," said one protester.
Turkey accepts that Armenians died in clashes with Ottoman soldiers but denies hundreds of thousands were killed and rejects the term genocide.
This year's rally came amidst tensions with Azerbaijan and demonstrators burnt Turkish and Azerbaijani flags at the head of the procession.
Dozens were killed earlier this month in clashes between Azeri and Armenian-backed forces over Nagorno-Karabakh.