Serbians head to the polls in test of EU membership popularity
Comments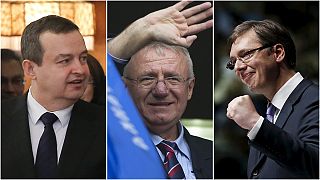 Serbians head to the polls on Sunday in snap elections that are being seen as a test of whether the country will move closer to the EU or Russia.
Prime Minister Aleksandar Vucic's pro-EU Serbian Progressive Party (SNS) is expected to win a majority. He has promised to lead the country towards EU membership.
His main rival is Foreign Minister Ivica Dacic's Socialist Party of Serbia (SPS) which favours a more cautious approach to the EU and keeping good relations with Russia and China.
Leader of the ultra nationalist Radical Party, Vojislav Seselj, has called for an alliance with Russia, historically an ally of Serbia.
Seselj was recently acquitted of war crimes by a UN tribunal.
He accuses the EU of being full of Serbia's enemies, drawing on sentiment against the NATO bombing of the country in the 90s.
The elections were brought forward by two years, with Prime Minister Vucic saying he needed a new mandate to implement the tough reforms required for Serbia to be eligible for EU membership.