VW nears deal with US authorities over diesel emissions cheating - reports
Comments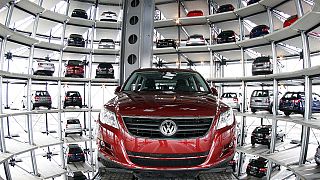 Volkswagen has reportedly reached a deal with US authorities to buy back up to half a million cars that cheated diesel emissions tests in the country, and to compensate their owners.
The German automaker, which declined to comment on the Reuters report, is expected to unveil a proposed settlement to a federal judge in San Francisco on Thursday (April 21).
The AP news agency said the company could spend almost 900 million euros to compensate the owners of about 600,000 cars affected in the US.
It's still unclear exactly how much each owner would get, but according to German newspaper Die Welt it could be over 4,000 euros.
If a deal is confirmed later in the day, and US authorities are satisfied, the company will avoid a trial. European owners of Volkswagen cars will also be watching.
The worldwide scandal broke last year when US regulators found Volkswagen had sold cars with rigged emissions software that enabled them to pollute up to 40 times the legal limits.