Up to 500 migrants may have drowned in Mediterranean - UNHCR
Comments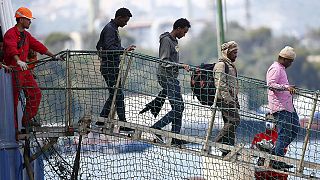 More than two hundred migrants arriving into the Sicilian port of Augusta on Thursday.
They were picked up at sea by a joint Italian and Greek rescue rescue operation.
Most of these people are from Eritrea, Egypt, Sudan and Syria.
They are said to have left Egypt to travel to Italy.
The United Nations refugee agency says they believe up to five-hundred migrants might have drowned in the Mediterranean.
The tragedy happened last week after human traffickers crammed people onto a ship that was already packed with migrants, causing it to sink.
Somalia's government said about two hundred Somalis may have died while trying to cross to Europe on the ship.
As many as 500 people may have perished in latest Mediterranean Sea tragedy https://t.co/tOqqyyD2lvpic.twitter.com/G1F5XlxhKz

— UN Refugee Agency (@Refugees) April 21, 2016