Interview: Africanews's Naqwor Kwabla on another migrant tragedy
Comments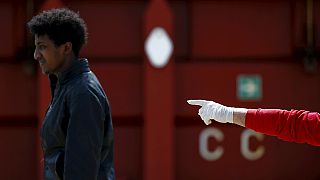 Up to 500 migrants may have drowned in the Mediterranean last week when human traffickers crammed people onto an already overcrowded ship, causing it to sink, the UN refugee agency (UNHCR) said.
For more on this tragedy Euronews's Nial O'Reilly spoke with Naqwor Kwabla, from its sister channel, Africanews.
Nial O'Reilly:
"Naqwor, details about this tragic incident are still emerging, but several hundred people are known to have drowned, what more can you tell us?"
Naqwor Kwabla:
"Information coming in is very scanty [limited] and what we are getting is what survivors told the UNHCR. The UNHCR says that 500 people are feared to have drowned and the survivors are from Ethiopia, Somalia, Sudan and Egypt.
"But the Somali Embassy in Cairo has put the death toll at almost 400. The journey started a week ago. What these survivors are saying is what the UNHCR is also giving out right now."
Nial O'Reilly:
"Europe says it's stepping up efforts to counter the migrant crisis and African states have also made promises to do more. Are there any signs of these measures against the human traffickers taking effect?"
1.03 Veronica Naqwor Kwabla
"After speaking to some experts on the ground, it looks like African states have not done much to stop the work of these human traffickers. That is because they are not putting in much effort to solve the situations in their country. Most of these migrants leave because of unemployment, conflict issues and all of that.
Naqwor Kwabla:
"If you recall last year when the EU met some of the African leaders, promising the 1.8 (B) billion euro trust fund for Africa, the African leaders raised some issues with the fund. Some said it was not enough, some asked for fair trade and more investment to solve the situation, some were not happy that African migrants had been singled out. They were to accept those migrants that were to be deported back to their country."
Nial O'Reilly:
"You've touched on the problems these people face… what drives them to risk everything, even their lives, to undertake these incredibly difficult and dangerous journeys?"
Naqwor Kwabla:
"Some of these migrants are economic migrants, unemployed, some may have completed graduate school, universities, [some] have degrees but they don't have a job, and maybe they have friends who have gone through the same route to Europe and they are sending money home to their families. Some of these young people are breadwinners [def: a person supporting a family with his or her earnings] and they have to feed their families, so they are forced to take up these very dangerous journeys.
"From other countries, such as Sudan, Somalia.. you know the issues there: the conflict and violence. Some of these people are forced to take up these journeys because they want peace of mind. It's not just one issue. It's a lot of issues coming into play. The main target of these journeys is for a better life."
Nial O'Reilly:
"Well there's no end in sight to this crisis. Naqwor Kwabla
in Africanews, thank you very much for your analysis.