Prince fans pay tribute outside star's home in Minnesota
Comments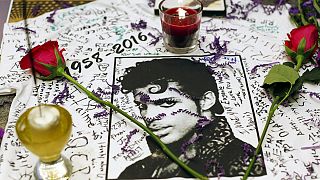 Prince fans have been struggling to coming to terms with news of the singers sudden death.
Outside his home at Paisley Park Studios in Chanhassen, Minnesota, hundreds came to pay their respects.
"I just can't believe it's true, I just can't believe it, I just can't believe he's gone, I can't breathe, I can't even talk," said one fan.
On Saturday night Prince had thrown a dance party at his Paisley Park studio, where he had made a brief appearance, to assure people he was fine after being treated in hospital for flu.
One fan described his shock that just a few days later the popstar was dead: "So honored to have been here Saturday night and I really felt like this is going to be great. We are going to do this for years, but now, he's left us. Right now, I am just kinda numb."
In New York, there was disbelief and shock at the loss of a music superstar who had influenced so many.
"He was my hero. We grew up on him. And I remember when he started singing, he was a little bit different from the others. It's a sad day," said one man
Another woman added: "It's very sad. It's a very sad day. He was a pioneer in music. We are definitely, music is definitely going to miss him."
Tributes have poured in from the music world, with Madonna describing Prince as a "visionary who changed the world."
President Obama said the world had lost a "creative icon".