Services resume in southern Japan after earthquakes though shortages remain
Comments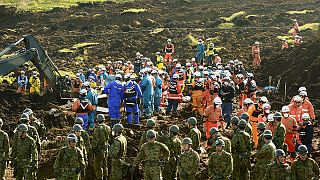 At least 44 people are known to have died in the recent Japanese earthquakes. Four days after the worst tremor struck on Saturday, hopes have dimmed of finding any more survivors.
At Minami Aso on Japan's southern Kyushu island, two more bodies were pulled from the debris on Wednesday.
More than 1,000 people were injured in the quakes.
About 30,000 rescuers have been digging through mud and splintered houses. Eight people remain missing.
Many survivors have been afraid to return to their damaged homes as aftershocks continue to strike the region.
Instead they have spent nights sleeping in cars; more than 90,000 remain in evacuation centres, often cut off by destroyed roads.
The Kumamoto region is home to Japan's only operating nuclear power station, which has been declared safe. It is also an important base for manufacturing. Japanese stocks have bounced back from a slide on Monday, when there were concerns that supply chains might be disrupted.
Kumamoto's airport reopened on Tuesday after being closed for four days. Some public transport has also started operating again.
Running water is said to have returned to 80 percent of households although some communities have still been struggling with shortages.
Food and other basic goods have also been lacking although modest relief supplies have been coming in. Television footage showed goods being unloaded from planes at the main airport.