Mitsubishi admits rigging fuel economy tests
Comments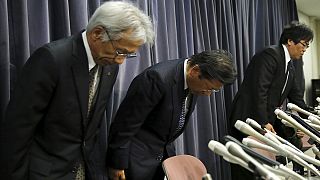 Mitsubishi Motors has admitted manipulating fuel economy tests on at least 625,000 of its small cars, including some vehicles built for its Japanese compatriot Nissan.
The company deliberately altered testing data to show better fuel consumption rates for four of its mini-car models sold in Japan, and has halted production and sales of those models.
The country's sixth-largest carmaker by market value said in a statement that there had been "improper conduct in fuel consumption testing".
The four models concerned are Mitsubishi's own "eK Wagon" and "eK Space", and the "Dayz" and "Dayz Roox" models supplied to Nissan since June 2013. Until the end of 2016, 157,000 of the eK models and 468,000 of the Dayz models had been sold.
"We have discovered that improper tests were being used – designed to show fuel consumption better than it actually was. It was also found that the fuel economy testing methods used were not in line with Japanese regulations. We offer our profound apologies to our customers and all shareholders for this," Mitsubishi Motors President Tetsuro Aikawa told a news conference.
The company's admission sent Mitsubishi's shares down more than 15 percent and wiped $1.2 billion (1.05 billion euros) from its market value on Wednesday.
"Our vehicles were found to have failed part of a fuel economy test," a spokesman said. The company says an internal panel has been set up to investigate the affair.
The problem is said to have been uncovered by Mitsubishi itself during an internal investigation after Nissan highlighted inconsistencies in emissions data.
Mitsubishi Motors sold just over one million cars last year.
The announcement – the first time a Japanese carmaker has reported misconduct fuel economy tests in the wake of the Volkswagen scandal – comes as the car industry is facing tougher controls, following last year's events when Volkswagen was found to have cheated diesel emissions tests in the United States and elsewhere.