Syria: airstrike on market kills 'dozens' in rebel-held Idlib
Comments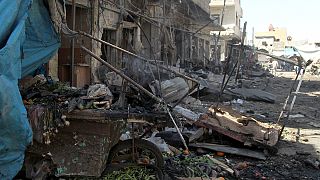 Amateur video uploaded onto a social media website is said to show the aftermath of airstrikes on a vegetable market in opposition-held territory in Idlib's countryside.
Men are seen carrying bodies as people scramble between damaged market stalls and rubble.
The footage, said to have been filmed in the town of Maarat al-Numan, has been checked by Reuters which says it is confident the events portrayed are genuine.
A rebel commander, a rescue worker and a war monitor all gave details of the airstrike which is said to have killed nearly 40 people and wounded around 80.
It was not clear whether the airstrike was carried out by Syrian or Russian war planes that had been deployed to support President al-Assad's government.
The rescue worker said 38 people were killed in the attack, and that another 10 were killed in the nearby town of Kafr Nubl.
Ahmed al-Seoud, head of a foreign-backed faction fighting under the umbrella of the Free Syrian Army, also cited the same figures regarding the market airstrike.
The Britain-based Syrian Observatory for Human Rights, which monitors the conflict through a network of source on the ground, said 37 people were killed in Maarat al-Numan and seven had died in Kafr Nubl.
There was no immediate comment from the Syrian military or Syria's state news agency.
Very significant uptick in regime airstrikes today particularly in Idlib, north of Aleppo city, al-Ghab, and east of Damascus #Syria

— Michael Horowitz (@michaelh992) 19 April 2016
Monday's rebel offensive against Syrian military forces in the western Latakia province has brought a government counter-attack on Tuesday. Fighting has focused on places where insurgent groups had attacked in areas where the "cessation of hostilities" has often broken down.
Damascus, accused by the opposition of breaching the agreement 2,000 times, continues to enjoy firm military backing from Russia and Iran.
Residents in the Syrian capital have been reacting to the opposition's decision to pull out of peace talks for now.
"The Geneva conference is worthless, because the solution should be a Syrian one. It will get tougher if we do not reach our own agreement. The west has no power over us. The essential problem is a Syrian one," said one man identified as Faisal.
"We hope it (an agreement) will bring relief to the people, not like the last versions. We need something effective, we don't want to count only the versions, Geneva two, three, four. We want to meet our people's aspirations and nothing more," another man, Hassan, added.
The Damascus government's position at the peace talks has not shifted: President al-Assad's position is not a matter for negotiation, while it is pushing an idea for what it calls an expanded national government.