Israeli PM vows to hunt down Jerusalem bus bombers
Comments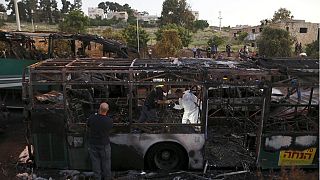 Israel's Prime Minister has vowed to track down those responsible for a bus bombing in Jerusalem on Monday.
At least 21 people were injured in the explosion. Many of those hurt were on the vehicle but others were in a passing car. That caught fire along with a second bus that was empty.
Israel: U/D Hamas and Islamic Jihad praise today's Jerusalem's bus bombing, Israel vows to hunt down attackers pic.twitter.com/8r4ZWjlkB5

— Yiddish News (@YiddishNews) April 18, 2016
Prime Minister Benjamin Netanyahu firstly commiserated with the victims and then warned the perpetrators:
" We will find who prepared this explosive device. We will discover who carried it out. We will also get to those behind them. We will settle the score with these terrorists."
Police said the blast was caused by an explosive device at the back of the bus. Suicide bombings on Israeli buses were the hallmark of the 2000-2005 Palestinian revolt but have been rare since.
The attack has been linked to a six-month-old wave of Palestinian street violence which has included stabbings and car-rammings, although there's been no claim of responsibility for this incident from any Palestinian faction.