Co-founder of anti-Islam PEGIDA appears in court on charges of inciting hatred
Comments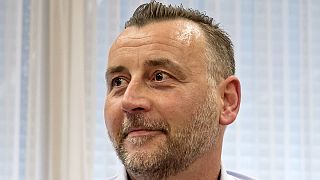 Lutz Bachmann, co-founder of Germany's anti-Islam PEGIDA movement has appeared in court on charges of inciting hatred against migrants.
Prosecutors say he could face a prison term of between three months and five years.
He wore rectangular black glasses – apparently a statement against privacy rules in the German media, which PEGIDA has labelled the "lying press."
In some legal cases, the faces of suspects are supposed to be concealed in the press.
Prozess gegen Pegida-Chef #Bachmann wegen Volksverhetzung begonnen https://t.co/XznTBiKgs7 via @DerWesten (dmo) pic.twitter.com/J8NBrdFeMc

— dpa (@dpa) April 19, 2016
The 43-year-old provoked criticism following a Facebook post in 2014, in which he referred to refugees as "filth" and "cattle." The Dresden court said the comments "disrupted public order" and were an "attack on the dignity" of refugees.
Bachmann, who already has a criminal record for charges including theft, drug dealing, drink driving and failure to pay child support, insists he is not racist.
PEGIDA forced itself onto the German political scene last year. Its anti-immigration protests in Dresden and elsewhere sometimes attracted ten of thousands of people, although opposing rallies often had a bigger turnout.
Support has dwindled in recent months, despite the arrival into Germany of more than a million migrants in 2015.
Some anti-Pegida protesters play punk rock at 7:30am outside Lutz #Bachmann's trial in #Dresden@dwnewspic.twitter.com/v5542NgaDS

— Ben Knight (@BenWernerKnight) April 19, 2016