Pegida fails to ignite as Europe-wide anti-Muslim protests fizzle
Comments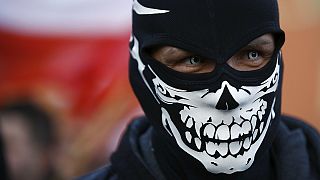 German anti-Muslim, anti-immigrant outfit Pegida tried to hold a European-wide day of protest on Saturday, with mixed results.
In the city of its birth 15 months ago, Dresden, several thousand people attended a rally, and the anti-Pegida camp also made its presence felt. Numbers, estimated at no more than 8000, were around half what police had forecast.
In Birmingham former leaders of various British far-right groups were to the fore under the Pegida brand but the numbers defied their predictions; barely 200 turned up.
In Warsaw police say around 1,000 marched. Several other cities like Prague, Amsterdam and Bratislava saw marches, and there were several counter- marches, too.
Again, right-wing figures were to the fore in Poland.
"Europe is now invaded by organized groups of people who want to dominate our continent. Central Europe is still in rather good situation, because there are not millions of Muslims here , as it is for example in Germany," said the leader of the National Movement Robert Winnicki.
At the sharp end of the debate, in Calais, the anti-Muslim far-right defied a ban and about 150 clashed with police when they went to protest outside the migrant camp.
In Dublin several hundred anti-Pegida demonstrators occupied their meeting point and then gave chase to groups they believed were Pegida supporters, triggering a number of scuffles.
RTE reported that the Pegida branch just set up in Dublin meant the organisation now had representation in 15 European nations.
Pegida did manage a decent showing in terms of countries taking part on Saturday, but numbers were far from what some had feared.