Japan reels in aftermath of double earthquakes
Comments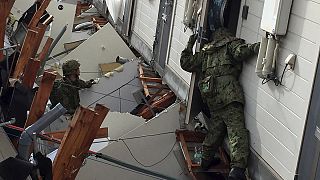 Still reeling from double earthquakes last week, thousands of rescue workers on Japan's Kyushu island are scouring the rubble in a desperate search for survivors.
The 72-hour threshold for finding people alive has come and gone, meaning rescue is turning into recovery.
Government officials say at least 42 people were killed in the two quakes and nine are still missing.
Kumamoto city was the worst hit area in Saturday's magnitude 7.1 quake (April 16). According to local authorities, 190 of the 1,000 injured are in a serious condition, while around eleven thousand people have been displaced.
US aid
Landslides and road and bridge damage have cut off parts of the region.
In a gesture of cooperation with its ally, the United States flew in water, bread, ready-made food and other aid supplies to the remote southern area.
Some 50,000 American troops are stationed in Japan. Washington played a major role in rescue and relief efforts following the 2011 earthquake and tsunami in Japan, in which almost 20,000 people died.
Last week's tremors disrupted business supply chains nationwide. Big Japanese manufacturers, such as Toyota, Sony and Honda were forced to close their factories.
The rupture had a knock-on effect on the Nikkei stock index, which ended 3.4 percent lower on Monday.