The hunt goes on for people missing following successive quakes in southern Japan
Comments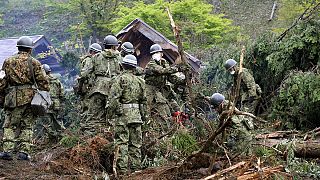 Death toll at 42 from two powerful quakes
400,000 households people without running water
Food and bottled water running short
The search is continuing in southern Japan for people missing from two powerful earthquakes that have killed at least 40 people.
Rescuers have been using shovels to dig through mountains of soil in a race against the threat of more landslides.
Saturday's magnitude-7.3 quake struck close to the city of Kumamoto, which had been hit by a magnitude-6.4 quake on Thursday night.
Both quakes were shallow, causing huge damage to roads, bridges and tunnels. Big landslides cut off remote mountain villages.
More than 1000 building are said to have been damaged.
Japan Quakes Force 250,000 Out Of Homes – https://t.co/uA9qNgqcd4

— Media Flood (@mediaflood) April 17, 2016
Nearly 400,000 households are still said to be without running water. Food and bottled water are in short supply in the stricken areas near Minamiaso village and Kumamoto city, where many roads remain cut off.
Almost 250,000 Evacuated After Japan Quakeshttps://t.co/OVHBjmLBjspic.twitter.com/ip12QM7kFD

—

CECHR

(@CECHR_UoD) April 17, 2016
One man emerging from a shop after trying to buy provisions said he had bought instant noodles but he was only allowed two packets.
One woman said water was the main problem: "I was able to buy water for drinking. But the problem is water for our toilet, it cannot flush, so water is definitely the biggest problem now."
With hundreds of aftershocks continuing to rock the region many residents are choosing to sleep outside in makeshift shelters or their cars rather than return to their homes.