Rousseff heading for exit in Brazil after impeachment vote
Comments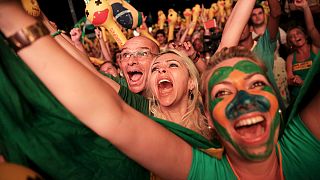 Emotions are running high in Brazil amid the biggest political crisis for years after a parliamentary vote which will almost certainly force Dilma Rousseff from office.
What cannot ever be accepted are violations of the constitution, situations that resemble a 'coup d'état'
The president lost a crucial impeachment vote in the lower house of Congress by well over the two-thirds majority needed.
Opposition lawmakers voted 367 to 137 in favour of sending the matter to the Senate. It is there, over the next few weeks that the upper house will decide if Rousseff has a case to answer.
She has been accused of allegedly manipulating government accounts ahead of her reelection in October 2014.
#Brazil – Lawmakers authorise #Rousseff impeachment to go ahead. By evaristosa</a> <a href="https://twitter.com/hashtag/AFP?src=hash">#AFP</a> <a href="https://t.co/vNdqgS6hwY">pic.twitter.com/vNdqgS6hwY</a></p>&mdash; AFP Photo Department (AFPphoto) 18 April 2016
Rousseff is alleged to have juggled public funds to make her government's economic performance appear better than it was to increase her chances of re-election to a second term.
Her critics say she violated Brazil's financial accountability laws and should be stripped of her office.
She denies any wrongdoing and says the impeachment proceedings are tantamount to a coup d'etat.
The voting took five hours to complete and as each vote for and against was cast there were impassioned arguements and even insults hurled. One MP accused the speaker of the lower and Rousseff's arch enemy, Eduardo Cunha of being supported by the devil and of being a gangster.
A spokesperson for the ruling Workers' Party said they would take the fight to defend Rousseff to the Senate where they were confident the impeachment will be dismissed.
Rousseff's solicitor-general Jose Eduardo Cardozo says she will not resign but will cooperate with proceedings.
"The president is open to talk about any solution within the framework of democracy that respects the Constitution. What cannot ever be accepted are violations of the constitution, situations that resemble a 'coup d'état'," he said.
Jubilant supporters in the "yes" camp in #Brasilia as they sense impeachment vote victory. #Brazilpic.twitter.com/grW6Ydlt5M

— Wyre Davies (@WyreDavies) 18 April 2016
Outside parliament, some 25,000 supporters and opponents of Rousseff followed the vote outside parliament.
On the grassy esplanade outside Congress, a two-metre high security barrier ran for more than 1 km separating rival demonstrations, a symbol of the political rift that has emerged.
There were similar scenes in cities across the country.
If she is forced out, Vice President Michel Temer will take over – but he too faces impeachment proceedings.
"The impeachment process is going on. Temer will also be accountable. THEY chose him. He's gonna be accountable to US, in order for Brazil to be respected. The future will determine what he's going to do. But we in the streets will continue to hound him," said Allan Dos Santos from "Resistencia Popular" – an opposition movement – who was one of the protesters in Brasilia.
Once her ally, the 75-year-old vice president is now Rousseff's rival. But he, like his party, has been cited in the Petrobras scandal – the ongoing investigation into the state-owned oil company where it is alleged that large bribes were paid to obtain contracts, resulting in soaring costs.
Picture of Dilma VP Temer smiling at yes vote to impeachment gaining steam on #brazil. pic.twitter.com/KrsjB768Ao

— Lulu Garcia-Navarro (@lourdesgnavarro) 17 April 2016
Corruption, recession, and now a bitter power struggle have paralysed Brazil just months before it is due to host the Olympics.
Euronews correspondent Pierre Le Duff reported from Brasilia:
"Those who back Dilma Rousseff's impeachment are exulting here on the southern part of Ministries Esplanade, as they react to the MPs' vote which probably marks just the beginning of a long political crisis in Brazil."
Sur l esplanade des ministères a #Brasilia on veut encore y croire malgré tout.. #impeachment#DilmaRousseffpic.twitter.com/pXauLOKlf0

— Pierre Le Duff (@pierre_le) 17 April 2016
Premières voix pour l #impeachment de #DilmaRousseff : pétards et klaxons de joie ds la banlieue aisée de #Brasiliapic.twitter.com/5n4srXzLZH

— Pierre Le Duff (@pierre_le) 17 April 2016