Thousands gather in Brussels for 'March Against Hate and Terror'
Comments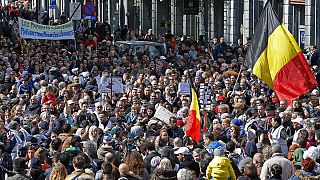 "Together in Peace"
Hundreds of people have gathered in central Brussels in memory of those who died in last month's terrorist attacks.
This is not a protest with a militant political message.
The march is a citizens' initiative organised by more than 100 associations.
It should have taken place on March 27 but was cancelled due to security concerns.
The procession:
1400 left the Gare du Nord in Brussels
Passed through Molenbeek
Led by victims' families, religious leaders
Belgian Justice Minister Koen Geens also there
Ends at Place Fontainas
Relatives, emergency workers and airport employees will speak to the crowd
Keep calm and love #Belgium seems to be unofficial slogan of #Brussels march solidarity march in memory of 22 03. pic.twitter.com/APG3xoFzke

— Jennifer Rankin (@JenniferMerode) April 17, 2016
At the head of the procession, members of an association for interreligious dialogue carried a banner bearing the words "Together in Peace".
The attacks
Suicide bomb attacks at Brussels airport and at the Maelbeek metro station on March 22 left 32 people dead.
More than 300 were injured.
"Daech get out of here, belgium is not yours" one of the slogans in today's march in #Brussels#tousensemblepic.twitter.com/PU4D02gtAA

— Fanny Härgestam (@fannyharg) April 17, 2016
What they are saying
"This is not a protest with a militant political message, it is above all a gathering, a message of compassion for the victims and a moment of shared citizenship." – Hassan Bousetta, Socialist MP from Liege.
"In Congo, when you cheat Death, you eat a white chicken. They are calling me white chicken now" – says Michel Mbiya, a Congo national who was at the airport but not injured in the explosions.